Opportunity

EnerUp World Inc., is the first new direct selling and licensed company based and founded in Alberta, Canada. The company is headed by an amazing and energetic couple with leaders who aspire and inspire people to discover the great rewards of direct selling.

Transformation

If you are coachable, hardworking and determined. Just by taking part, you become a bigger version of yourself and help others do the same. There are absolutely no entry barriers. You don't need any particular level of education or training.

Freedom

Be ready to change your life, mentally, physically and financially. It will deepen your understanding of the ways in which this business will transform your life. Earn what you are worth, be your "OWN BOSS" and maximize your earnings with a residual income that will give that financial freedom you have been longing for.
EW Upcoming Events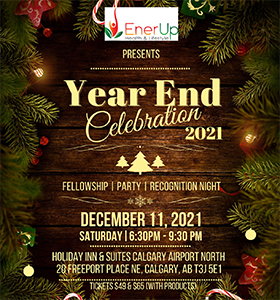 Address: Max's Restaurant Calgary, AB
Time: 6:00 pm onwards
Invite your friends and Family to our EnerUp World Celebration 2019!
Buy a Ticket and a chance to win.
Please call 1-844-729-5789 for more details.